Kingly Impling Jar
Release Date
February 18th, 2014
Members?
No
Quest Item?
No
Tradeable?
No
Lendable?
No
Equipable?
No
Stackable?
No
Low Alch Price
15 coins
High Alch Price
30 coins
Store Price
Not Sold
Grand Exchange Price
Not Tradeable
Destroy
You can reclaim this item

from the place you found it.

Examine
Kingly Impling Jar.
Weight
0kg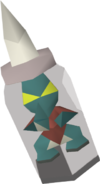 The Kingly Impling Jar is an item acquired when you successfully capture a Kingly Impling. The Kingly Impling requires 91 Hunter to capture and is currently the hardest Impling to catch in Impetuous Impulses. This Impling's unique loot is the Royal Attire set.
Currently barehand catching is not available so you must have a Butterfly Net or Magic Butterfly Net. Currently you also must have an empty Impling Jar in your inventory to catch implings.
---
| Item | Low Alch | High Alch | General Shop | Grand Exchange |
| --- | --- | --- | --- | --- |
| Chance at nothing | N/A | N/A | N/A | N/A |
| Royal Crown | 30,000 | 60,000 | 70,000 | 300,000 |
| Royal Shirt | 30,000 | 60,000 | 70,000 | 300,000 |
| Royal Leggings | 30,000 | 60,000 | 70,000 | 300,000 |
| Royal Sceptre | 30,000 | 60,000 | 70,000 | 300,000 |
| Royal Amulet | 30,000 | 60,000 | 70,000 | 300,000 |
| 1-2 Crystal Keys (Noted) | 0 | 1-2 | 0 | 3-6 |
| 1-8 Amulets of Glory (Noted) | 5,288-42,304 | 10,575-84,600 | 12,337-98,696 | 52,875-423,000 |
| 1-3 Dragonstone Amulets (Noted) | 5,288-42,304 | 10,575-84,600 | 12,337-98,696 | 52,875-423,000 |
| 1-21 Uncut Diamonds (Noted) | 60-1,260 | 120-2,520 | 140-2,940 | 600-12,600 |
| 1-47 Dragon Bolt Tips | 200-9,400 | 400-18,800 | 466-21,902 | 2,001-94,047 |
| 48-63 Dragon Dart Tip | 3,600-4,725 | 7,200-9,450 | 8,400-11,025 | 36,000-47,250 |
| Dragonstone | 4,500 | 9,000 | 10,500 | 30,000 |
| Uncut Dragonstone | 300 | 600 | 700 | 3,000 |
| 13-52 Onyx Bolts | 53,170-212,680 | 106,340-425,360 | 124,059-496,236 | 531,687-2,126,748 |
| 41 Dragon Bolts | 11,890 | 23,780 | 27,716 | 118,941 |
| 9-105 Dragon Arrow | 2,160-25,200 | 4,320-50,400 | 5,040-58,800 | 21,600-252,000 |
| 6-103 Dragon Dart | 900-15,450 | 1,800-30,900 | 2,100-36,050 | 9,000-154,500 |
| Dragon Longsword | 30,000 | 60,000 | 70,000 | 300,000 |
| Dragon Spear | 10,720 | 37,440 | 43,680 | 187,200 |