Slayer Helmet
Release Date
August 28th, 2014
Members?
No
Quest Item?
No
Tradeable?
Yes
Lendable?
Equipable?
Yes
Stackable?
No
Low Alch Price
195 coins
High Alch Price
390 coins
Store Price
454 coins
Grand Exchange Price
1,950 coins
Destroy
Drop
Examine
Slayer Helmet
Weight


The Slayer Helmet is a helmet that combines several pieces of slayer gear in order to create a more versatile helmet. You can learn the secrets of creating it after unlocking it for 400 slayer points. The helmet requires 35 Slayer to equip as well as 55 Crafting to create it. While worn the Slayer Helmet will provide the special effects of all the items required to create it. Masked Earmuffs will not work when crafting the Slayer Helmet they must first be disassembled.
Slayer Helmet's Combat Stats
Skill Requirements
Degrades
35 55
No
Class
Slot
Melee
Head
Attack Bonuses
Stab
+0
Slash
+0
Crush
+0
Magic
+0
Range
+0
Defence Bonuses
Stab
+30
Slash
+32
Crush
+27
Magic
+0
Range
+30
Summoning
+7
Absorb Melee
+0%
Absorb Magic
+0%
Absorb Ranged
+0%
Other Bonuses
Strength
+0
Ranged Strength
+0
Prayer
+0
Magic Damage
+0%
Assembling the Helmet
Edit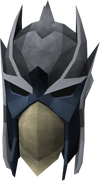 | Task Length | Default Points | Bonus Points | Fewest Tasks Needed |
| --- | --- | --- | --- |
| Short | 10 | | 36 |
| Medium | | | |
| Long | 45 | | 9 |
After unlocking the ability to make the helmet, a message appears in the chat window stating: The secret is yours. You can now combine a black mask, face mask, spiny helm, nosepeg and earmuffs into one useful item.
The items used to make the slayer helmet are:
All of the aforementioned items are required to craft the helmet, as well as a Crafting level of 55. The helmet keeps all the effects of the used items, but includes better stats making it one of the most optimal slayer helmets available. To create the helmet simply use one of the items on another one of the items with all the items in your inventory.
Once the Slayer Helmet has been constructed you can then continue to create the Full Slayer Helmet which requires a Slayer Helmet, Hexcrest, and a Focus Sight. These items are dropped by the Jungle Strykewyrm (73 Slayer) and the Desert Strykewyrm (77 Slayer) respectively. Similarly to the Black Mask, these two items improve magic and range by 12.5% during slayer tasks.